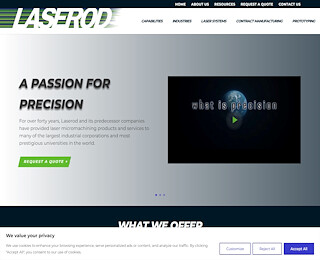 Is it Micromachining Picosecond Laser? Definitely at Laserod!
When it comes to micromachining picosecond laser, precision is a passion at Laserod. We are committed to providing excellent micromachining services to various industries like aerospace, solar cell, microelectronics, medical, touchscreen fabricators, transducer sensor, and others. Our specialties include cutting and drilling materials that are thin, drilling small holes, silicon wafer-coring/resizing, trimming resistor circuits that are hybrid, ceramic substrate-cutting, and displays' circuit patterning like PET and glass on ITO.
At Laserod, our laser machines generate no different precision results as what the Product Division does. Before we sell a laser system, the engineering personnel will first demonstrate to you how our equipment will perform on your materials by producing samples of tests done based on your specification. 
How Does a Micromachining Laser Works
A micromachining picosecond laser can produce a minimum feature size of a width that is slightly smaller than one micrometer. But this happens for coatings that are thin under a thickness of one micron. A value considered typical is 10 microns laser cut width for beam penetrations that are deeper.
A thumb rule is defined by about a wavelength of one laser, or 1 micron for Yttrium Aluminum Garnet (YAG), 0.25 micron for quadrupled frequency YAG, and 0.5 microns for doubled frequency YAG. These figures are for thin coatings' widths for cuts. For profound beam penetrations, multiply the figures by 10.
How We Build Our Products
Besides our micromachining picosecond laser, our customized systems of micro-machines range from small to huge parts while the standard runs from small to medium. You can have a view of the links related to Patterning Systems that are Standard, Laser Systems that are Custom and Refurbished from our website https://laserod.com/products/ and find out more about our Florod Models LFA, Mel-40, and LMT.
What Valuable Benefits are Brought By Our System
The significant features which are value-added in our systems include:
   Installation onsite, training and commissioning
   Applications and software know-how, and drawer to power distribution
   Technical consulting, and
   Support to applications and constant technical after-sale
Our Stated Capabilities
Laserod integrates lasers, computer hardware, motion devices, box or drawer power distribution, optics, and software into a machining laser tool that is fully functional. "Know-How" is our trade's stock that goes with no saying. We recommend that you get us prototyped first as a principle of proof, then make a lot of runs to verify our performance in quality and in throughput.
Our Supplied Laser Engines
We have the following laser engines being supplied to our clients. The wavelengths run from UV to IR, ranging from 0.355 microns to 10.6. These include:
   Solid-state fiber
   Solid-state diode
   Solid-state lamp
   Sealed CO2
   Excimers
   Solid-state Picosecond (ps)
Not All Projects are Similar
If you have any questions or any special requests, you can click the "Contact Us" button at https://laserod.com/products/ and fill out a form or speak with one of our experts regarding your concerns. Just send us a message including your name, company, email, phone number, your uploaded drawing, enter the code as shown, and submit it to us. Our phone number at Laserod is 310-328-5869, Toll-Free is 888-991-9916, Fax is 310-328-5873, and email is sales@laserod.com. Contact us now. We'll be more than glad to assist you.