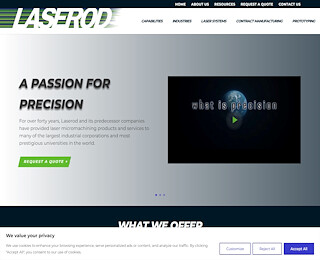 Laser cutting is a tricky business. Some stores and vendors offer services like this for very common tasks – think of any time you got tags inscribed for your pet at the pet store – but more times than not, you will need a certified professional to do any scribing or cutting.
This is because lasers are involved in many shapes and forms, meaning highly dangerous rays of light are being used. If used improperly, they can be very dangerous and can lead to poor quality items.
But if you find the right professionals, you know you are getting the very best quality laser cutting that money can buy and you will never have to worry about the quality scribing that you are getting. You have to know, though: this isn't typically small-time operations being done.
Where can you get pico laser cutting done?
The best of the best, the very first place that you should always consider when thinking about getting laser cutting done is Laserod. Laserod Incorporated, founded by Rod Waters in the 1990s, is actually a follow-up of Florod. Florod was established by waters and a business partner in the 1970s and has some pretty heavy hitters among its clientele: Boeing Northrop Grumman, IBM, Lockheed Martin, Mtsui, Tyco, Teledyne and many others. They also serve elite, ivy league schools around the country; almost 100 in total.
They also sell their own line of machines. So before purchasing a laser cutting/scribing machine, you will be visited by a member of the engineering staff who will demonstrate how to use all of the various aspects of the equipment and show firsthand how it will perform by providing test samples to your specifications. They also guarantee that their laser machines will produce the same results that they produce in their laser job shop, ensuring that you are purchasing the very best in quality.
Simply put: Laserod is the place to go for precision laser cutting. Their clientele list reads like a who's who of Fortune 500 companies that rely on them to provide the very best laser cutting and scribing services. Not only that, but the best universities in the country depend on them as well. How can you beat a resume like that?
Where can you find laser cutting for silicon carbide?
If for whatever reason Laserod cannot provide you with the services you need, there are other options available for laser cutting silicon carbide.
There are several companies that offer laser cutting, marking and engraving services. Typically, carbon dioxide laser scribing and cutting use picosecond lasers, green ns pulsed lasers and UV ns pulsed lasers to scribe at 300 mm per second.
What is a picosecond laser? It's a laser which emits optical pulses. These clean pulses can result in cleaner cuts and can even require just a few megahertz to operate, though more may be required depending upon what the job is.
Companies will use scribing techniques like trenchablation and materials that result in low debris, meaning you get a cleaner scribe.
Where To Get Pico Laser Cutting