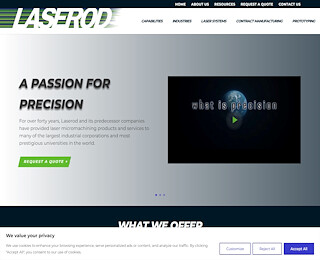 Laser Patterning on Glass Full Specifications
When it comes to the latest approach of direct laser patterning on glass strategy, Laserod pioneers the newest laser structure through dry etching as well as a transparent type of conductive coatings. We revolutionized glass and plastic micromachining through the use of world-class coatings including ITO or the Indium Tin Oxide component, CNT or the carbon nanotube, AgNW or the silver type nanowire, chrome type, gold, and many others.
Our company consistently provides upfront services and products for more than four decades serving various small type and large industries including prominent universities, businesses, and corporate companies.
Laser Patterning on Glass
Through our very own strategic laser patterning with solid standards like mask-less direct write pattern generation, laser dry process and etching single step procedure, maximum scan area rate of 1.6m and writing rate of 5m per second, and scan area which is typically 450mm with 1m per second writing capacity depending upon the geometric pattern.
Our laser services enhanced from traditional patterning to R&D type which provides is faster performance and less expensive. With this advancement in motion and laser technology, we are able to elevate laser ablation capacity for up to ten times higher than the common approach. Aside from that, we also offer another advanced strategy involving photographic process for materials which are transparently conductive. It features spinning photoresist, enhancement, exposure, etching of wet chemical, baking process, and direct stripping. Each exposing procedure requires photomask treatment through the multi-functioning wet chemistry.
Dry Laser Patterning
In addition, our dry-type laser processing enhances a cleaner and more environment-friendly procedure. We have the latest single base ablation laser operation that replaces all the long term procedures of photolithographic steps. Our solid state type of laser technology or the YAG process is more simplified to eliminate excessive laser patterning which conveniently saves as high as 80 percent of traditional laser expense. The dry etch technology promotes several advantages compared to the ordinary approach. It provides lower operational cost; prevents any type of chemical pollution, undercut, or swelling; faster prototyping enabled which lasts only for hours than days or weeks; and repeatable procedure with a more unified etching pattern. We have three wavelength options for structuring transparent type conductive coatings which are 1064, 355, and 532nm.
On the other hand, plastic type substrates require web processing which is roll-to-roll to encourage cleaner and proper handling as well as a no-scratch procedure. We also have several benefits for plastic flexible type display for laser patterning which include burning prevention of PTE, improved transparency of display, flexible processing, sheet resistance capacity with suitable isolation requirement, and feasible laser write rates for up to 5m per second. We have a higher quality of processing room with a superior level of laser performance for the shop service and a built-in small type room for optional equipment.
Contact Information
You can always visit the Laserod website for the full product and service specifications at www.laserod.com. For other concerns, comments, or queries, you may register at the online form provided in the website or you may email us at sales@laserod.com.
Laserod Technologies, LLC
3103285869
20312 Gramercy Pl
Torrance
CA
90501
View Larger Map
We welcome your comments!