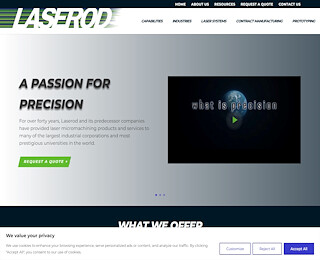 Laser patterning is used to remove or structure thin, functional layers from solid metals or compounds by using a laser. A laser is used for maximum precision because it can ablate or structure layers as narrow as a few microns thick. It can also be used to remove layers with a width of up to 10mm.
Laser patterning is used in many different areas and is a very versatile technology. Laser patterning is also known as laser ablation or laser structuring. 
How Does Laser Ablation Work?
The laser patterning process doesn't take a lot of preparation. All you need to do is focus your laser on the substrate with the material you'd like to remove on top of it. Before this is done, however, you'll have to take several important things into account. The wavelength, pulse length, intensity, and type of material will determine how the material will turn out.
Types of Lasers
There are two types of lasers. Either one of them will work well for most tasks related to laser patterning, but there are pros and cons to each one.
Pulsed Fiber Lasers
Pulsed fiber lasers give out short beams instead of one long continuous beams. They're a good choice for laser patterning designs, as they're easier to control and work well for producing detail. However, the short beams mean that projects will take longer to be completed.
Continuous Wave Lasers
These machines use a continuous beam to create a laser patterning imprint. They're not as great as pulsed fiber lasers when it comes to detailed and precise work. However, they're accurate, clean, and work very well for more extensive, less intricate designs.
Functions of Laser Patterning
Laser ablation can be used in many fields. However, there are three areas its presence is best known.
Manufacturing
It has become a standard procedure to use the laser ablation for electronics and microprocessors. It is also used in processes such as thin-film patterning and laser TC patterning.
Medicine
Laser ablation has deep roots in medicine. It's used for precise work such as removing brain and spine tumors, resurfacing skin, treating epilepsy, etc.
Science and Research
Laser patterning has significantly helped in science and research by assisting in the study of destruction and regrowth of cells and tissues. More recently, it's played a large role in the study of anti-microbials.
Why Should You Use Laser Patterning

It's Precise
Other processes might not be able to get the etching or removal you want in one go. Laser ablation significantly increases your chances of getting a great job done on your first try.
It's Economical
Many methods, such as mechanical milling and chemical processing, require lots of prep and equipment before you can even start the actual process. Laser patterning requires only your laser, your substrate, and the operator.
It's Faster
Shorter prep time plus accuracy equals faster work.
It's Cleaner
Other methods might require protection for unrelated parts of their substrate when processing it. But because lasers are a non-contact technique, they don't need you leading them to a cleaner finish.
The Best Laser Patterning For You! 
Laser patterning is the easiest method to get your etching done. The best part is that it's multi-purpose and its uses are still being discovered. When you consider that getting a laser patterning system from a leading supplier, you are investing. With the number of things the machine does, you might be the one getting the best end of the bargain. Contact Laserod to speak with a customer service rep today: 1-888-991-9916
Laserod Technologies, LLC
3103285869
20312 Gramercy Pl
Torrance
CA
90501
View Larger Map
We welcome your comments!