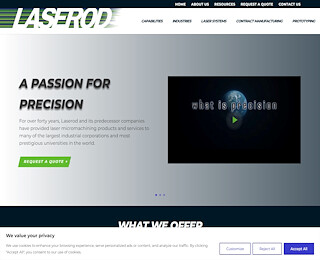 Laserod is a reputable laser dicing company in California. For more than 40 years, we have been recognized for providing quality products and excellent services to industries, corporations, and universities, across the world. Our services include Laser Dicing, Precision Laser Machining, Wafer Corning, Laser Patterning, Resistor Trimming, and so forth.
Our qualified experts use state-of-the-art tools, advanced equipment, and sophisticated techniques to execute all our Laser Job Shop services. No matter your laser dicing, corning, or machining needs, we are the ideal laser dicing company in California to handle the task.
What Is Laser Dicing?
Laser dicing is a process in integrated circuit manufacturing whereby die are separated from a wafer of semiconductor following the processing of the wafer. The process is highly accurate and can be applied to materials such as silicon, ceramic, diamond, polymers and composites. Laser dicing is widely used in electronics, microelectronics, photovoltaic and plastic electronics. 
How Are Wafers Cut?
How you will cut wafer will depend majorly on the size of the wafer. For silicon wafers that are thicker than 100 µm, diamond blades can be used even though this traditional technique has some downsides that cannot be ignored. For silicon wafers that are less than 100 µm thick, laser ablation is a far better technique than the blade technique that causes damages.
Another laser-based technique referred to as stealth dicing is also used to cut wafers. This technique works as a two-stage process. In the first stage, defect areas are introduced into the wafer by scanning the beam along intending cutting lines. In the second stage, an underlying carrier membrane is expanded to induce fracture. This method hardly generates any debris.
What Is A Silicon Wafer Used For?
Silicon wafer is primarily used in integrated circuits. Silicon is regarded as the best semiconductor and is the most used one in the production of chips and microchips used in most electronic gadgets. Due to the uniqueness of the electric current through silicon wafers, they are the most important items for integrated circuits (ICs).
The ICs, on their own, are a composite of a variety of electronic elements that are brought together to perform a particular function. Computers, smartphones, and other mobile electronic devices are all dependent on ICs made from silicon wafers. Silicon wafer is also used in sensors such as the tire pressure sensor system and solar cells. They can absorb the photons in sunlight and create electricity in the process.
Why Is Silicon Used In Wafer Fabrication?
As mentioned earlier, silicon is the best and most used semiconductor. It is used in wafer fabrication for the right reasons including the following:
Its conductivity is very easy to modify.
It is widely available and inexpensive to produce.
It is very stable.
It has moderate band gap.
Contact Us Today!
Do you need a reputable laser dicing company in California to handle you lacer dicing project? Contact us today at Laserod to know more about our services. Our experts will be available to speak with you and provide suitable answers to your questions and concerns. An amazing experience awaits you.
Laser Dicing Company California