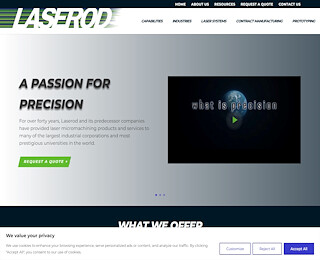 Finding precision laser cutting can be a far more comprehensive and difficult task than one might think. After all, you have to know just what you are looking for when you begin looking. Are you looking for an outside service that will perform whatever work you need done at a cost? Or do you need to purchase a femto laser for your company based on the amount of work that needs to be done.
With each of these scenarios, there is an associated cost. Outsourcing the work may result in a far lesser initial cost but could add up over time. But you as a company also need to know that if you are investing in a machine for your business, that it is worth the expenditure associated.
What femto laser companies are in the US?
Laserod is the premiere company in the United Sates when it comes to femtosecond lasers. Not only do they provide precision lasering in their laser shop, but they also manufacture their own laser cutting machines for usage in your own shop.
Laserod not only builds these high-quality femtosecond machines, but they will send out one of their expert engineers to show you just how to use all of the features available on these incredibly high-tech machines.
If your company does a lot of laser cutting and scribing, investing in one of these machines can go a long, long way towards improving the look and quality of your process.
What is a femto laser?
A femto laser creates bursts of laser energy at a high rate of speed. It is measured in femtoseconds, which is one quadrillionth of a second. Femto lasers are used to target and break apart tissue or other materials all the way at the molecular level, with damaging the surround areas.
One of the most common usages for femto lasers is in bladeless LASIK surgeries for your eyes. People can understandably be very uncomfortable with the idea of a physical surgical tool cutting into their eyes, so the use of femtosecond lasers has allowed for bladeless procedures, which in turn are more accurate than they've ever been.
And if you can get correcting surgery done without having something sharp and metal put into your eye, wouldn't you?
How much does a femtosecond laser cost?
The cost of a femtosecond laser is not an insignificant one, so if you are running a center that specializes in cataract surgery, you will need to be aware. The machine itself cost between $400,000 and $500,000 with a usage fee that is somewhere between $150 and $400 per eye. And don't forget about the maintenance contracts that come with them, running at a cost between $25,000 and $50,000 per year, starting after the warranty period has run out.
Still, despite the high costs, the efficiency of the machines cannot be questioned. They performed highly precise operations quickly and efficiently like never before. It makes for a quicker, safer, easier experience than ever before  and the costs will quickly be worth it.
Femto Laser Company US