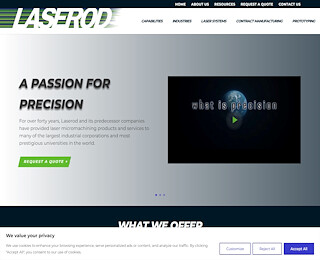 Lacer dicing from Laserod is used for different requirements from the resizing of substrates or wafers to microelectronic device singulation. As the best laser dicing company with a variety of laser parameters at our disposal, we're able to use laser dicing for a range of applications including composites, silicon, polymers, ceramic, and diamond, making it suitable for use in plastic electronics, microelectronics, electronics, and photovoltaics. 
Since there's no mechanical contact or blades involved with laser dicing, there are no cracks and chips that are common with mechanical processes. Moreover, there's no mechanical wear. It's possible to configure laser dicing for partial thickness cutting or complete cutting. What's more, laser dicing, through high feed rates, can attain narrow street width.
Laser dicing of materials such as polymer and silicon makes it suitable for plastic and conventional microelectronics. Laser processing offers an alternative to standard mechanical sawing and has the added advantage of flexibility to overcome the challenges of new advancements in electronics.
Laser dicing also extends to almost any application such as diamond, ceramic, among other sturdy materials. 
What Are the Advantages of Laser Dicing?
Laserod's laser process offers various advantages such as:
Improving the Quality of Processing
The average feed speed in compound semiconductor processing should be slow because of constant cracking and chipping. But a laser processes these semiconductors at high speeds without compromising the quality.
Lasers use a non-contact process that has less load or impact. That makes it possible to improve yield, reduce chipping, and increase feed speed and die strength. The method is most effective for thin wafers.
Dry Process with No Contamination
Lasers don't use water. As such, they can be applied to devices where water isn't allowed.
Reduces the Cost of Ownership
The reduction of the cost of ownership achieved by our one-of-a-kind system and an optimal laser head makes it possible to reduce the processing time while increasing the processing speed. A laser is especially effective in processing wafers that are thinner than 150 micrometers.
Which Are the Best Laser Dicing Solutions?
There are two main methods which are stealth dicing and ablation process. Laserod proposes the most suitable method depending on your needs.
Stealth Dicing
In stealth dicing, the laser is focused on the workpiece creating a modified layer inside that allows for die separation by use of tape extension.
Features:
The dry process is effective for devices that are water-sensitive
The modified workpiece prevents process dust
Suitable for silicon, glass, lithium, MEMS, DAF, tantalate, and sapphire
 Ablation Process
In the ablation process, laser energy is focused on a micro area for a very short period, thus evaporating and subliming the solid.
 Features include:
Almost zero damage to the material
Allows narrow street width of even under 10 micrometers
A non-contact process with less load or impact
Usable for workpieces that are hard to process
By changing the laser depth, ablation provides three processes—scribing, grooving, and full cut
Why Choose Laserod?
Looking for the best laser dicing company? Come to Laserod. We provide a turnkey of solutions that conventional methods can't and offer over forty years of experience, advanced laser dicing applications, and a dedicated customer network support. For all your unique needs, contact us using our toll-free number 888-991-9916.